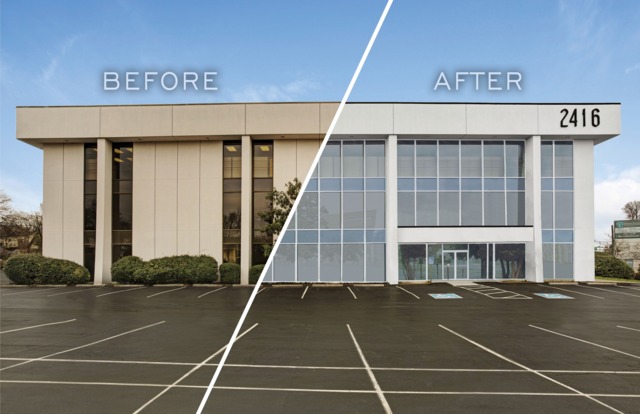 21st Avenue Office Building Undergoes $1.5M Renovation
Elmington bought Belmont-Hillsboro property last year from Ted Welch-affiliated entity
A Belmont-Hillsboro office building fronting 21st Avenue and once owned by the late local businessman Ted Welch is undergoing a $1.5 million renovation.
Nashville-based Elmington Capital Group owns the property, which has an address of 2416 21st Ave. S. and is located about one-half mile south of Hillsboro Village (See the site here courtesy of Google Maps.)
Via its ECG Midtown LLC, Elmington acquired in October 2016 the property as part of a portfolio from an LLC affiliated with Welch, a real estate investor and GOP fundraiser who died in March 2014 at age 80. The acquisition price was $21.95 million (read more here).
Elmington has enlisted Nashville-based Southeast Venture to handle the design of both interior and exterior changes, according to a company spokeswoman.
The first phase of the project includes interior demolition and the installation of a new sprinkler riser, the spokeswoman said.
Further renovation will include the replacement of the building's window system, as well as the renovation of building's interior common areas.
Updated signage, landscaping and HVAC systems are slated, she said.
Spanning about 47,000 square feet, the Class B building opened in 1975 and is similar to a West End corridor-based structure that also recently underwent a major adaptive reuse effort. That building (see here courtesy of Google Maps) is home to Blue Cross Blue Shield of Tennessee and located on Park Avenue. BCBS of Tennessee owns the property.
Once completed, the 21st Avenue building is expected to command a per-foot rate of $30, according to a LoopNet listing.
The building is home to Dunn Clinic, a chiropractic services business.