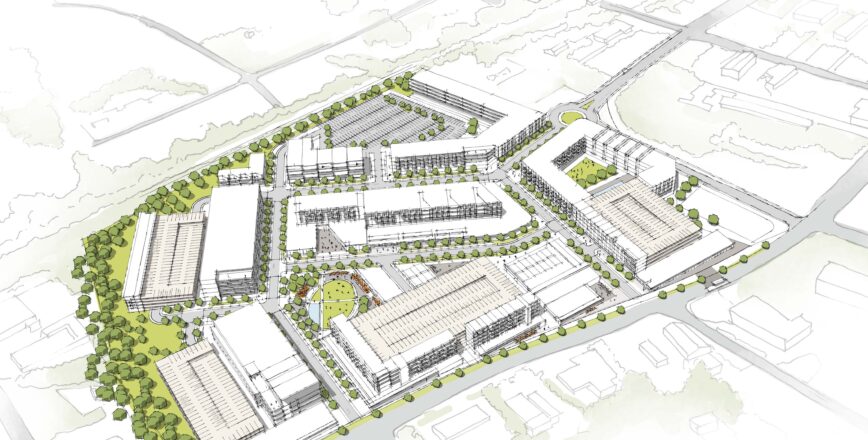 Can Madison become Nashville's next Green Hills?
Plans are in the works for a redevelopment of Madison Square Shopping Center, which investor Tom Corcoran and a business partner bought out of foreclosure 25 years ago.
The owners are seeking a rezoning to allow for a mix of retail, mid-rise office, restaurant, entertainment and multifamily housing uses on the 33-acre shopping center site at 721-970 Gallatin Pike S., between East Webster Street and Neelys Bend Road in Madison.
The multi-phased, multi-year redevelopment plan is part of a burst of activity in Madison, which for years lagged growth compared to other parts of Nashville. Now investors are snapping up prime properties and developers planning projects including for the location of one of the city's first suburban shopping centers that in the '50s was known for high-end retailers such as Levy's and McClures and as the home of the state's first Shoney's restaurant.
"It has some good bones and it's so well located that it could be a destination for office, shopping, retail and housing," economic and development consultant Randall Gross  said about Madison, which he studied for a strategic plan set to be released on Dec. 11.
By the time Corcoran was joined by his business partner Jim Maddox in buying Madison Square Shopping Center in 1992, most of the high-end retailers had closed. Corcoran cites availability of development sites among appeals of Madison, whose location further away from downtown Nashville in part explains the lag in growth versus other hot spots.
"Madison used to be quite similar to Green Hills," he said. "You had many professional people there — doctors, lawyers, a great religious foundation. I'm speculating that it will come back — it will return. Some people would say that's crazy, but 10 years ago those people wouldn't have thought that Germantown would have million-dollar homes today."
Under The Corcoran-Maddox Cos.' plans, Madison Square Shopping Center would become Madison Town Center after the proposed rezoning to mixed-use general.
Metro Councilwoman Nancy VanReece expects the project to improve public spaces, support transit, provide walkable areas, offer new housing choices, sustain economic activity and guarantee continued growth in Madison for the next 25 years. The project would be designed for the driverless car era with parking structures built in a way that they could be converted to residential and other uses when demand for spaces drop.
"We do want to develop a very strong public realm that provides places for dining, for gathering, for recreating — to become the living room for Madison," said Kim Hawkins, principal in landscape architecture firm Hawkins Partners. "It's kind of to accommodate many of the community's needs there. This area is a prime area for future development."
Among other improvements coming nearby, Metro plans to invest $6 million to build Station Boulevard, a new street off of Gallatin Pike opposite Neelys Bend Road. That boulevard will run between the Bojangles and Hardee's with a roundabout in front of the Fifty Forward senior citizens center and will then continue up to Old Hickory Boulevard.