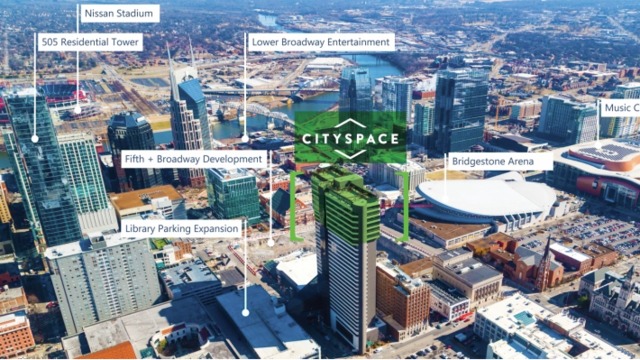 OakPoint pays $21M for office space at Renaissance hotel
Deal is company's first since sale of brokerage business to Foundry
OakPoint Real Estate announced Wednesday it has acquired CitySpace, about 100,000 square feet of office space situated on the top six floors of downtown's Renaissance Nashville Hotel building.
The acquisition price was $21.05 million, according to Metro records.
The seller was Nashville-based Elmington Capital Group (via its ECG Tower LLC). The space had been called Renaissance Office Tower before being rebranded as CitySpace.The building has an address of 611 Commerce St.
CitySpace is roughly 90 percent leased, with tenants including marketing and public relations firm MP&F Strategic Communications.
OakPoint plans cosmetic renovations to the office floors, which are expected to benefit from improvements currently underway at the hotel, said Justin Albright, co-principal at OakPoint.
"It amazes me how many people still do not know there is office space up there," Albright said in the release. "There is nothing like it downtown or anywhere else in Nashville, for that matter. Views like this are typically reserved for full or multi-floor tenants, whereas CitySpace provides the penthouse experience to all its tenants. In fact, I had one person tell me it is like getting the icing without having to buy the entire cake."
CBRE's Douglass Johnson (senior vice president), Morgan Hillenmeyer (first vice president) and Nicole Filkins (associate) had the listing for Elmington.
The purchase comes after OakPoint (which also has an Austin office) recently announced it has sold its Nashville brokerage firm to Foundry Commercial.
"We are getting back to our core, which is investments," said James Granberry, OakPoint co-principal. "We just finalized a strategic alliance with an investor group to deploy roughly $50 million into our markets. When coupled with our growing investor base, we have some serious buying power."
The purchase also comes as the Renaissance Hotel continues to undergo multimillion-dollar renovation, including a full lobby modernization and soon-to-open restaurant/bar Little Fib (read here). The building will provide direct access to Fifth + Broadway, a massive mixed-use development underway on an adjacent lot.
"The amenities provided under one roof are unparalleled. Between the hotel and Fifth + Broadway, CitySpace will have interconnectivity to about 300,000 square of retail and meeting space," Albright said.
Since launching in 2012, OakPoint has purchased more than $425 million in real estate and raised more than $120 million in equity. CitySpace marks the company's second acquisition in Nashville for 2018. The company is also under contract to develop a 170,000- square-foot office building in Austin.