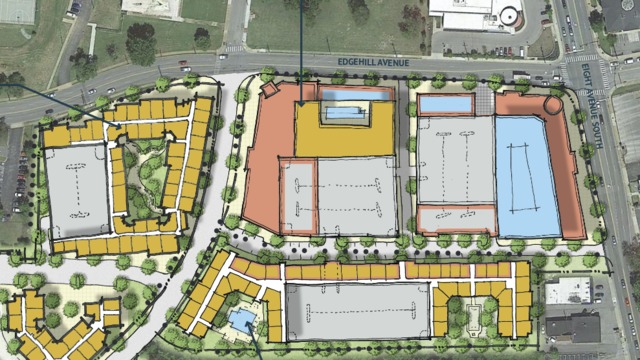 Plan Shows Building Arrangement for Reservoir Project
A site plan related to the massive mixed-use project Elmington Capital Group is eyeing for the Edgehill shows commercial buildings potentially rising 12 stories and fronting both Eighth and 12th avenues.
Documents submitted to the Metro Planning Commission note that the local office of Raleigh-based land planning and engineering company Kimley-Horn and Associates is involved in the project, called The Reservoir. (See the plan here.)
The development, to sit at the 23-acre site home to apartment complex The Park at Hillside, could contain upwards of 1,200 residents and buildings spanning 600,000 square feet and accommodating retail and office space.
It is expected to take five to 15 years to unfold. The name derives from the site's location north and west of the former city reservoir and Metro's Reservoir Park.
Elmington has submitted to Metro a preliminary development plan and zoning change for the site, which is located at the southwest corner of the intersection of Eighth Avenue South and Edgehill Avenue.