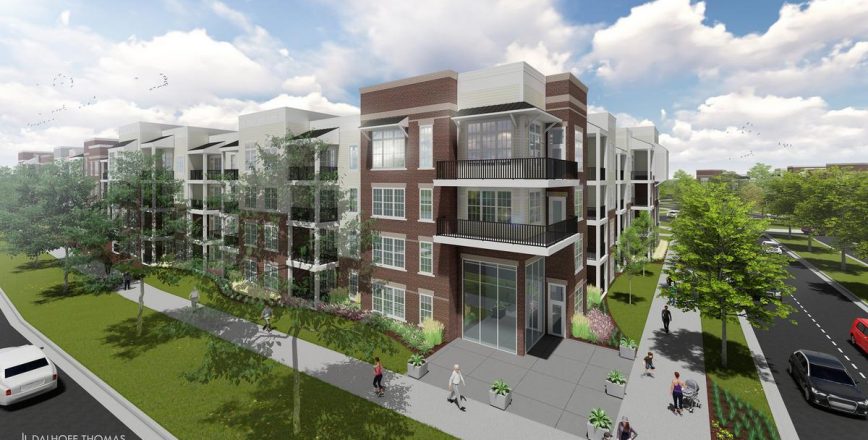 New details on massive Shelby Farms mixed-use development
Dwell at Shelby Farms is moving forward.
The Memphis City Council approved an outline plan Tuesday, Jan. 23, for the 71-acre mixed-use neighborhood, which is planned for Raleigh LaGrange Road on the park's northeastern edge.
A spokeswoman for Elmington Capital Group, one of the project's developers, then announced what Phase 1 of the massive project would be on Wednesday.
The project will start with 250 multifamily units, which would be located in four buildings at the front of the development, Elmington's Jessi Grant said. The company is hoping that the phase will break ground in 2019.
Following those apartments, the development is set to include more three- and four-story apartment buildings, townhomes, single-family homes and a senior living facility — with assisted living and memory care units accompanied by on-site health, wellness and dining services.
The outline plan included the breakdown of living units below:
Senior living: 100 units
Multifamily (including Phase 1): 530 units
Townhouses: 140 units
Single-family: 160 units
Elmington, based in Nashville, owns 862 units in Memphis. The company also manages 1,530 units in Memphis through their property management division.
While most of what the company has done in the Bluff City has been affordable housing, Grant made it clear that Dwell at Shelby Farms will be a market-rate neighborhood.
Crews Investment Holdings LLC is the project's other developer. Dalhoff Thomas Design Studio is the urban planner and landscape architect for the project. Kimley-Horn is its engineer, and Shapiro and Co. is the architect.