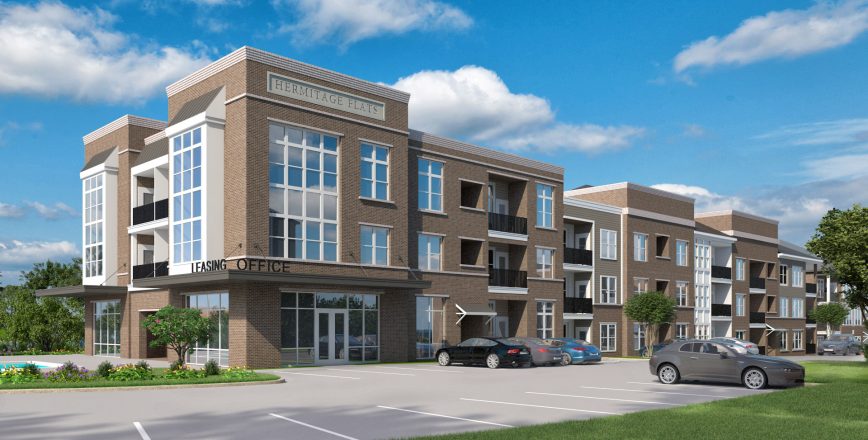 Developer, Nonprofit Team on Apartment Project
Elmington, Woodbine Community Organization eye August start for 267-unit development in Hermitage
Elmington Capital Group is eyeing an August start on a 267-unit affordable housing project in Hermitage.
The Nashville-based company recently closed on the $1.8 million acquisition of a 10.6-acre site at 5636 Old Hickory Blvd. and on which multiple apartment buildings are slated. The project will be called Hermitage Flats.
Elmington will undertake the project in a joint venture with local nonprofit Woodbine Community Organization.
Rents are expected to be about 80 cents per foot. In contrast, many of Nashville's recently opened urban apartment buildings offer units that command a minimum of $2.50 per foot.
"We have a long relationship with Woodbine Community Organization and are looking forward to this project," said Hunter Nelson, Elmington senior vice president.
Nelson said Memphis-based Shapiro and Co. Architects is handling design (a rendering will be released soon), with Nashville-based BACAR Constructors to serve as the general contractor.
First Tennessee is providing the construction loan and equity, he added.
Tony Woodham, WCO executive director, said the project should prove noteworthy.
"Hermitage Flats — with its breadth of financial resources and investments to ensure long-term affordability, close proximity to services and transportation, and innovative public/nonprofit/private collaboration — represents a landmark achievement within Nashville's 'fund, build, preserve, retain' approach to affordable housing options," Woodham said.
Elmington Capital Group is involved in other area affordable housing projects, including a development to be located at the northeast corner of the intersection of Wedgewood and 12th avenues in Edgehill and for which an image and details are forthcoming.
The company is also undertaking affordable housing projects in Old Hickory and East Nashville.