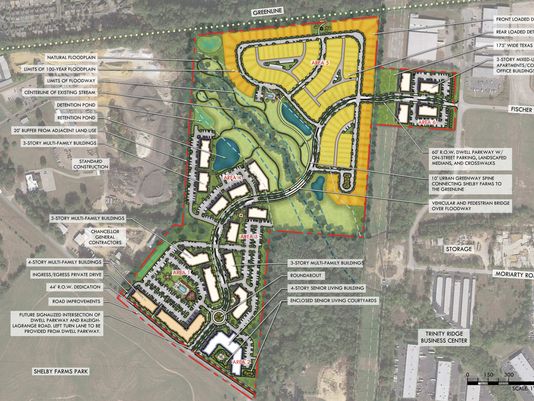 Nashville Developers Planning Massive 71-Acre Project Near Shelby Farms
Nashville-based Elmington Capital Group has submitted plans to the Office of Planning and Development for a 71-acre senior housing, apartment and single-family development next to Shelby Farms Park.
Dubbed Dwell at Shelby Farms, the massive new development will be located on the north side of Raleigh-LaGrange Road near the intersections of Trinity and Fischer Steel roads. The area is generally northeast of Shelby Farms.
"We have created a conceptual development plan that we believe will ultimately transform an undeveloped property into a high quality, mixed-use neighborhood," Henry Minor of Dalhoff Thomas Design Studio said in a letter to OPD planning director Josh Whitehead. "The development is striving to build a neighborhood with a strong sense of place and close ties to the neighboring Shelby Farms Park and Shelby County Greenline, which will be mutually beneficial to supporting these recreational amenities and attracting future residents."
While only residential plans were submitted to the OPD, Minor indicated in his letter of intent that other commercial uses have not been ruled out.
"Additionally, design provisions in the architecture have been made to allow for retail and office uses on the ground floor of several multifamily buildings," Minor wrote. "The timing for introducing those commercial uses will be market driven, but the developer's intent is to build, own and maintain a mixed-use community that will complement the existing neighborhood and provide a place where residents have the opportunity to live, work and play."
In addition to Elmington Capital Group, which is involved in projects in Downtown Memphis, the development team consists of Charles Crews of Crews Investment Holdings.
The proposed project will be located roughly two miles from the Parkside at Shelby Farms, an unrelated 50-plus-acre, $200 million development that will include a 130-room hotel, Class A apartments, townhouses, senior living, offices and retail tenants across 18 mid-rise buildings and at least three towers.
Plans for the Parkside at Shelby Farms project were approved by the Land Use Control Board in August. Parkside is located generally northwest of Shelby Farms near the intersection of Whitten and Mullins Station roads.