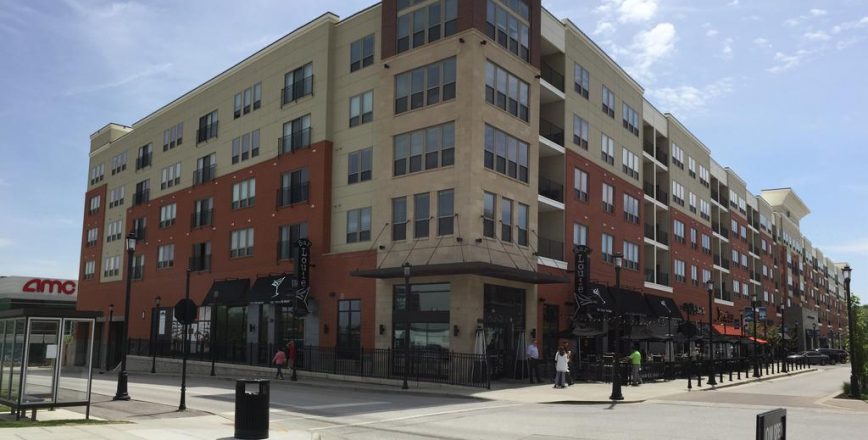 Streets of St. Charles apartments sold to Chicago firm
The 309-unit apartment complex at the Streets of St. Charles mixed-use development has been sold to a Chicago real estate investment firm.
Trilogy Real Estate Group acquired the facility, called the Residences at The Streets of St. Charles, from Cullinan Properties.
Terms of the deal were not disclosed. The property, according to St. Charles County records, has a market value of $32.7 million, though it's believed the purchase price is well above that figure.
Officials with Cullinan did not disclose the purchase price. Officials with Trilogy were not immediately available for comment. The deal closed April 12 and paperwork for the transaction was not yet filed with St. Charles County.
Sean Fogarty, Mary O'Connell and Wickliffe Kirby of Holliday Fenoglio Fowler represented Peoria, Illinois-based Cullinan and produced the buyer in the deal.
It's the first sale of the property, which Cullinan developed for $150 million in 2014. The 27-acre complex also includes 500,000 square feet of retail space as well as medical and office parcels. Since opening, the development has attracted two hotels — a Drury Plaza and Tru by Hilton (both of which will open this year) — as well as new restaurants and shops.
Trilogy, which has one other portfolio property in St. Louis — the 194-unit Reflection Cove apartments in Manchester — has assets under management of $1.5 billion.
Multifamily developments accounted for nearly 34 percent of total local commercial real estate sales volume in 2016, with roughly $756 million in properties being sold, according to Newmark Grubb Zimmer research.